Let's learn the classroom layout for kindergarten in shanghai case. Shanghai Foreign Language Kindergarten has first-class environmental facilities, advanced educational concepts, forward-looking curriculum design, and diverse activities. Shanghai Foreign Language Kindergarten explores and implements the model of foreign language education and character education starting with infants and young children.
Cultivate children's physical and mental health, independence, and creativity; try to communicate in foreign languages to form good characteristics such as etiquette, love, self-confidence, and fortitude. Appropriate recreational activities should be carried out after the children's classroom learning is over, and the physical energy consumed by learning should be recovered through a variety of recreational activities. At this time, they need to have a completely relaxed, free, and very safe environment for them, and they need to have a good set of indoor teaching toys.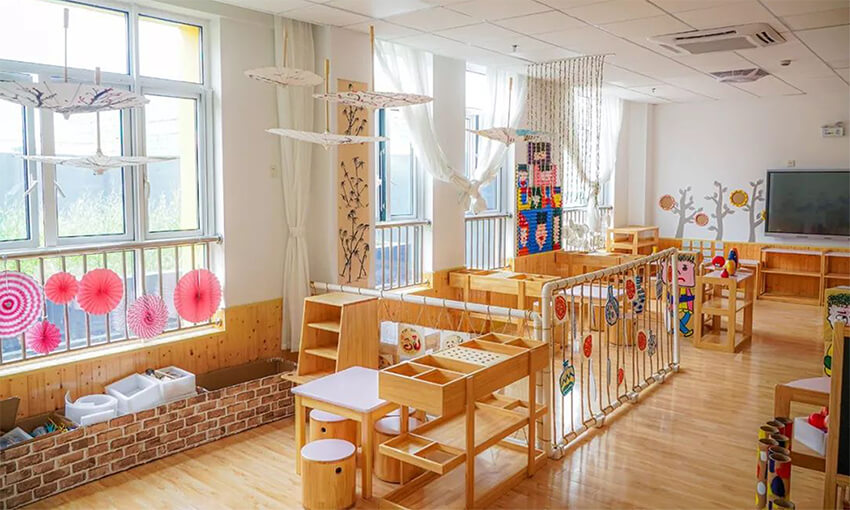 Features:
– Promotion of gross motor development through creative movement
– Varied classroom seating options including tables/desks, bean bags and rugs
– Ample natural light from windows
– Accessible storage spaces throughout the room
Benefits:
– Promotes an engaging environment that encourages student interaction
– Creates a visually stimulating space with brightly furniture and decor
– Encourages collaborative lesson planning between teachers and children
– Maximizes space efficiently through organized classroom design
How to Arrange and Organize Your Kindergarten Classroom
Such as the playground house with slide, can effectively promote children's interactive games, enhance the fun of the campus, and stimulate children's physical potential. Superior design and fashion sense, using unique trend perspective to inject charm elements into products; enable kindergarten children to create infinite joy and attraction in limited space. At the same time, it can exercise children's coordination, balance, strength, endurance and other qualities, and cultivate children's qualities of daring to try and adventure. It can allow children to be completely relaxed, have fun, and strengthen their comprehensive ability in the game. Every kindergarten needs a brightly colored environment and a variety of indoor large toys to stimulate children's creativity and imagination.
Classroom layout for kindergarten is specifically designed to meet the needs of young students. This design will optimize movement and collaboration among student, allowing them to maximize their academic performance. The classroom can be adapted to different learning activities, like circle or desk seating arrangements or flexible desks that suit individual and small group settings. With ample storage around each area, your children also have easy access to learning materials and toys. The floor plan should include large wall space where easels, whiteboards or other educational tools can be hang for optimal use during group projects or activities.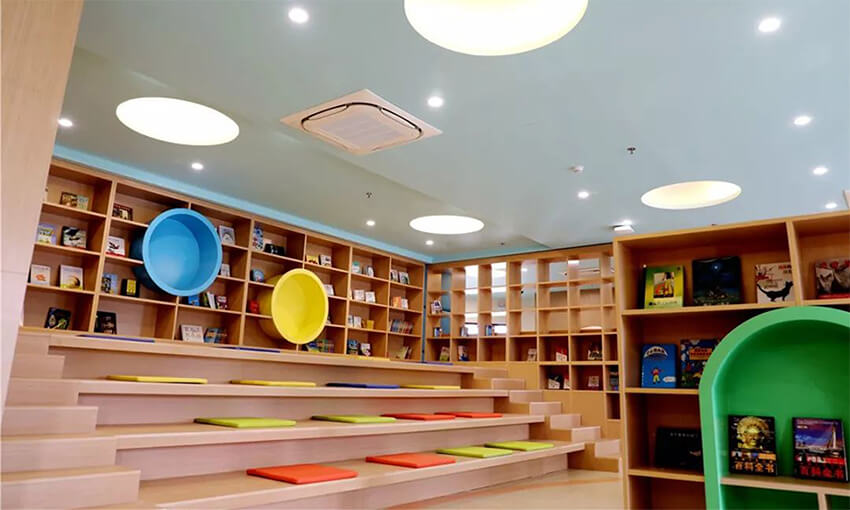 Whether you're outfitting a full preschool or just making adjustments to a single room, Ryangi offers comprehensive and organized classroom designs for kindergarten that can be tailored to your needs. Our plans take into account the age of children, child safety considerations, and different learning styles, and even leave space for creative play activities. Our team specializes in creating innovative solutions within any budget you have in mind.
Ryangi Group preschool education equipment "one-stop" solution service provider; main products: kindergarten furniture, wooden expansion, large children's combined slides, Mongolian teaching aid cabinets, toy cabinets, climbing nets and other children's play equipment. Ryangi takes green, natural and environmental protection as the starting point to create a safe and secure fortress for the growth and health of children!