Play School Interior Design
The interior decoration design of play school must first consider the limitations of children's age whether play school interior design or decoration must be based on children's psychology, thinking, and behavior. Therefore, the concept of decoration design for kindergartens should start with improving children's psychology, enhancing children's thinking ability and creativity, decorating children's favorite styles, enriching the emotional foundation, and enhancing understanding.
Features:
– Strong and durable solid wood construction
– Variety of colors and finish options
– Perfect seat heights to allow easy access for little ones
– Nonslip flooring protection against slips and falls
– Indoor playground with slides, ramps, computers, and more!
Children in the critical growth period of 3 to 6 years old, whether it is personality characteristics, physical and mental development, thoughts and behaviors, are basically formed at this stage. Taking into account the characteristics and requirements of children's age and physical and mental development, when designing and decorating the kindergarten, it is necessary to fully consider some basic abilities that children need to learn, such as hygiene habits, self-care ability, ability to deal with affairs, moral ability, and so on. The decoration design of the kindergarten should not only consider the learning of children's cognition, but also make the decoration design livelier.
The design of the playground is based on children's intelligence and is beneficial to children's bodies and minds. The design of children's entertainment space needs to conform to the age characteristics of children. Generally speaking, playgrounds are divided into indoor and outdoor two types: indoor amusement spaces, mainly with educational building blocks, puzzles, books, and other space facilities; outdoors, large-scale amusement facilities, slides, and climbing ropes are mainly used to improve children's athletic ability. Let the children combine work and rest.
The decoration design of the play school is not that the more gorgeous the better, but that the characteristics and needs of the children's age should be fully taken into account, and scientific concepts and clever designs should be used to help the implementation of educational concepts. Let the children learn in happiness, and constantly develop a good life and thinking habits.
Taking into account the limitations and characteristics of children's physical, mental, and learning abilities, kindergarten education should focus on guidance, learning practices, games, and life-necessary skills outside of the curriculum. Therefore, when decorating a kindergarten, decorations, and colors that attract children's attention and enhance children's imagination should be the main focus.
In addition, safety is an issue that must be considered in the decoration of the kindergarten. From the decoration materials to the selection of tables and chairs, teaching aids, to the living and entertainment facilities, it is necessary to use safe, non-toxic, and environmentally friendly decorative materials.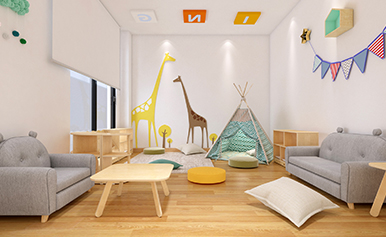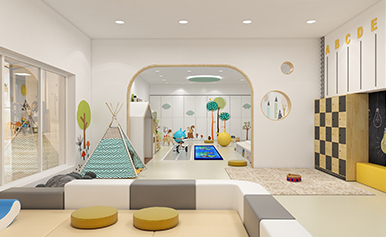 Product Material Introduction
Does your play school need a significant makeover? Ryangi has got you covered. We have all the interior design items you need for your play school. Get sturdy, economical, affordable, and stylishly designed wood play school furniture from us! Our designs feature bright colors and modern styles, enabling children to think creatively while learning their ABCs and numbers.
1. The wood material is double AA grade poplar core birch surface multilayer solid wood board, which is not easy to deform and crack and has good flatness
2. Board surface (double-sided): adopt Baichuan UV paint (matte, reduce reflection surface, protect children's eyesight under strong light environment) automatic production line processing, 2 bottoms (rough grinding + fine grinding), 2 sides (top paint) ), 2 films (the film protects the paint surface during transportation and processing), the hand feels delicate, UV paint is cured by ultraviolet light, with higher hardness and longer service life.
3. Corner treatment: A. Industry-standard: According to the requirements of China's first mandatory national standard for children's furniture "General Technical Requirements for Children's Furniture", the dangerous outer corners of the product below the ground height of 1600mm should be rounded and inverted. The radius of the circle is not less than 10mm, or the length of the rounded arc is not less than 15mm; B: Processing technology: 2 bottoms and 2 sides are used for finishing (2 bottoms are water-based paint closed bottoms, 2 sides are food-grade wood wax oil), and fine touch.
Follow the AMS classroom layout requirements, furniture requirements, teaching aids requirements, and design according to the needs of children.
Every piece of furniture strives to help children operate independently and cultivate independence.
Each teaching aid can exercise children's hand-eye coordination, color sensitivity, cultivating interest, independent living skills, problem-solving skills, self-management skills, and emotional management skills.