Whole Preschool Activity Classroom Customization
Provide solutions for the construction of children role-play areas
Ryangi children area cabinet whole house custom series kindergarten furniture emphasizes functional design, simple and smooth, bright and practical. Product multi-functional combination, with freedom. The kindergarten role-playing is customized for the whole house, and the children's area cabinet not only meets the storage requirements of the role area materials but also provides a solution for the flexible construction of the area. It is equipped with kindergarten furniture and teaching aids that are suitable for children to pick and place to create a more friendly and harmonious corner environment. Each corner is an independent scene.
Adhering to the mission of allowing more children to have a healthy and happy growth space, we are committed to changing the life mode of young children, improving children's living and learning environment, paying attention to children's healthy growth, and adding fresh elements and wonderful school activity room ideas for school to the children's furniture industry. Create a safe and comfortable environment for children.
Activity Room for Kindergarten
As a kindergarten teacher, you understand the importance of having an engaging and stimulating activities for kindy room. The activity room is a place where your students can explore, play, and learn. It is also a place where preschoolers can let their imaginations run wild. There are a few things you can do to create an engaging and stimulating activity room for kindergarten. First, you will need to choose the right furniture. Second, you will need to select the right zoom activities for kindergarten. And third, you will need to create a schedule that works for your students. Keep following to learn more about how to create an engaging and stimulating activity room for toddlers!
The reading characteristics of children of different ages should be fully considered when setting up the environment of reading rooms in kindergartens. For example, the reading interests of children in small classes should be taken into full consideration. Middle and big classes of children's reading habits.
The library activity room reading area that is putting desk and chair, animal small round stool, the short square desk and chair that sit together, young teacher people saw the mystery among them at a glance!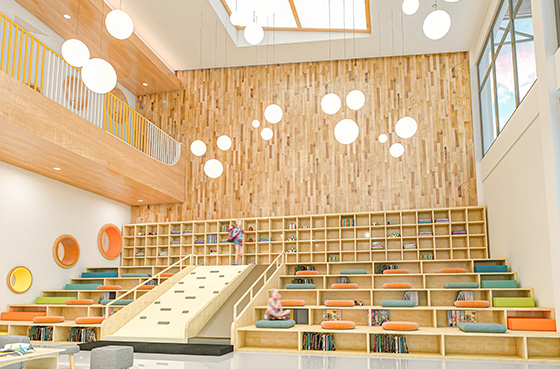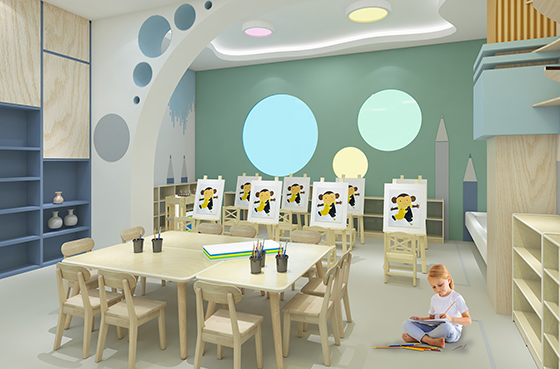 Art activity classroom generally undertakes the educational significance of cognition, creation, and cooperation. The first thing is to let children know about daily necessities and things beautiful in the environment. Let children try to express their love and closeness to beautiful things by language, expression, and action, and cultivate children's perception of beauty.
Secondly, it encourages children to try and explore different tools and materials, allowing children to imagine and create through different forms of artistic expression in painting activity rooms, which can not only decorate and beautify the environment but also stimulate their creative power. At the same time, children communicate and cooperate to complete work together, which can enhance their communication ability and prepare them for their integration into the collective and society.
The design of the reception room in the kindergarten classroom tend to be ignored, the kindergarten is commonly used in kindergarten reception guests attending the meeting of the guest room use, as part of the show the image of the kindergarten important content, the design of the reception room to fully embody the kindergarten's own characteristic and the concept of kindergarten, the reception activity room is kindergarten foreign exchange platform, the guests in the reception room will be the most intuitive cognition on the kindergarten.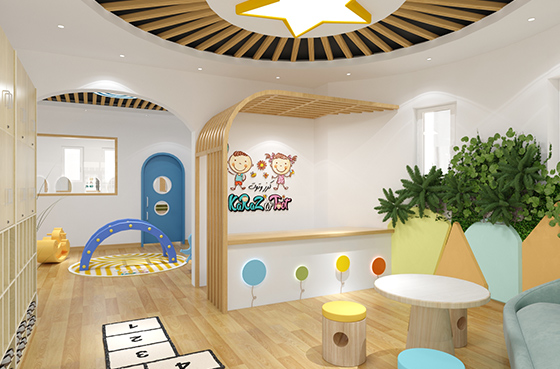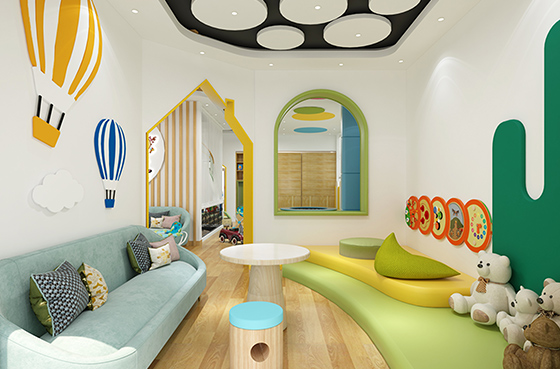 In the middle of the relax area, practical, comfortable, beautiful, and exquisite leisure chairs are placed, and family education books, children's picture books, educational newspapers, etc. are placed on the bookshelf beside the waiting area activity room. Parents are used to leave the park and wait for the pick-up time, so as to popularize family education knowledge to parents and improve parents The new concept of parenting, family education runs through the fragmented time that parents wait for. At the same time, it also provides temporary rest points for visitors, business consultants, sanitation workers, passers-by and students.
The kindergarten science activity is an area that guides children to contact with the natural environment, makes them feel the mysteries of nature, and stimulates their curiosity and cognitive interest. This area combines and utilizes life experience to help children understand the natural environment and initially understand the relationship between nature and their lives, guide them to pay attention to common scientific phenomena around them, and germinate their interests in science by letting them feel the convenience brought by science and technology.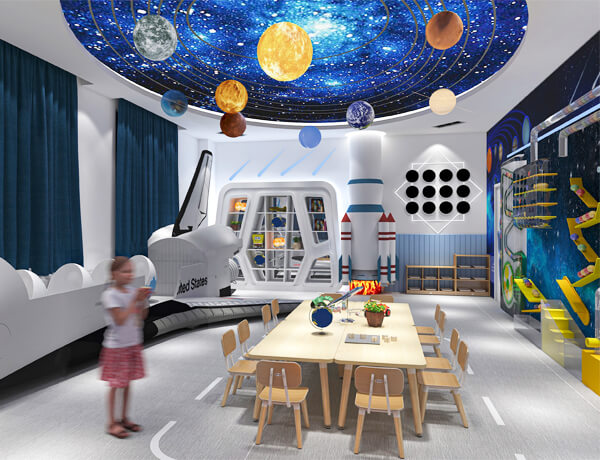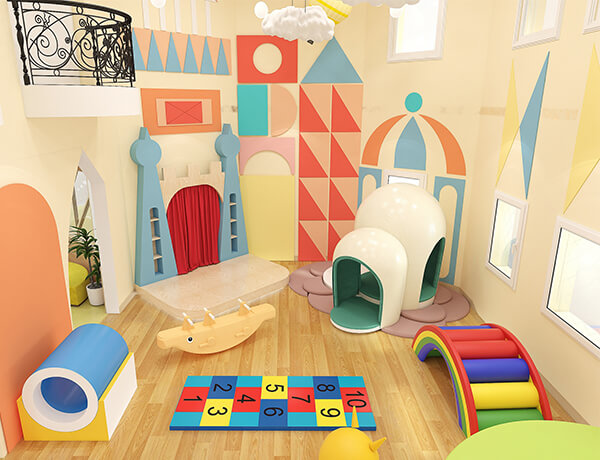 Role play is also an excellent way for children to practice and consolidate their language skills. Through role-play, children can learn to cooperate and take turns. They can also learn how to resolve conflicts calmly and peacefully. Incorporating role play into your child's life is easy and fun. There are many ways to do it, and the benefits are well worth the effort. Keep reading to learn more about the importance of role-play activity room in preschool and how to incorporate it into your child's life!
Puzzle games are not only a source of entertainment but also a valuable tool for children's development. These games encourage children to think creatively and use their problem-solving skills, which can lead to improved cognitive and emotional development. As children have fun playing these games, they are also exploring and experiencing the world around them. Puzzle games can help stimulate children's talents and potential, allowing them to spread their wings and shine brightly in the future.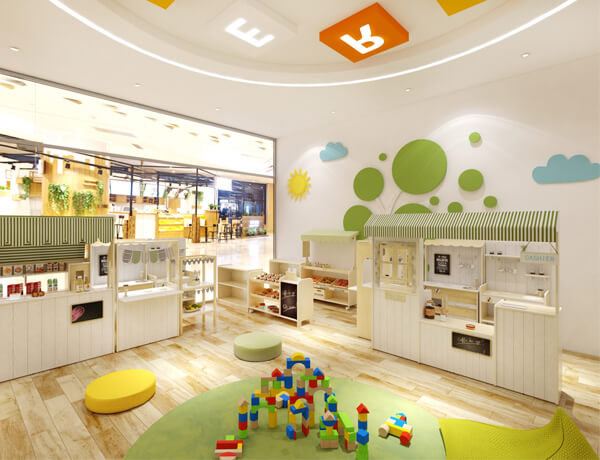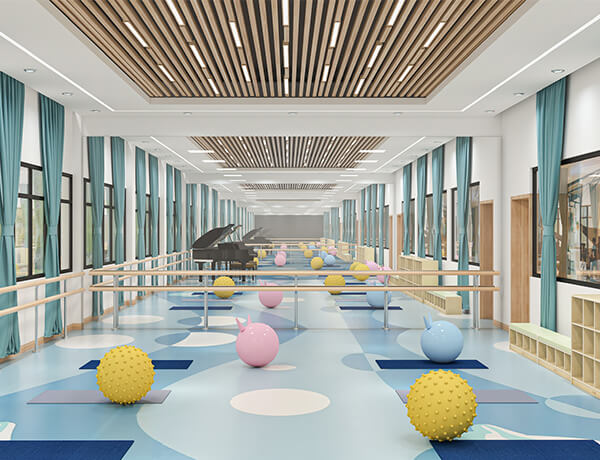 Music is an important part of any nursery. It helps to create a fun and playful atmosphere for the children, as well as providing an opportunity for them to learn and develop their skills. A nursery dance music room is a dedicated space activity for kindergarten where children can express themselves through movement and music. This type of room allows children to explore different sounds, rhythms, and instruments while having fun in a safe environment. It also encourages creativity and collaboration between the children, helping them to build relationships with each other. With the right equipment, this type of room can be used to teach basic musical concepts such as rhythm and tempo in an engaging way that is both educational and entertaining.
Designing a nursery bedroom activities for your little one can be a fun and exciting. When it comes to nursery bedroom design ideas, there are plenty of options to choose from. One popular design idea is to use a neutral color scheme, such as white, gray, or beige, to create a calming and soothing atmosphere. Another popular trend is to incorporate natural materials, such as wood, wicker, and rattan, into the design to create a sense of warmth and coziness. Wall decals, murals, or wallpaper with playful patterns, like animals or stars, can add a touch of whimsy to the room.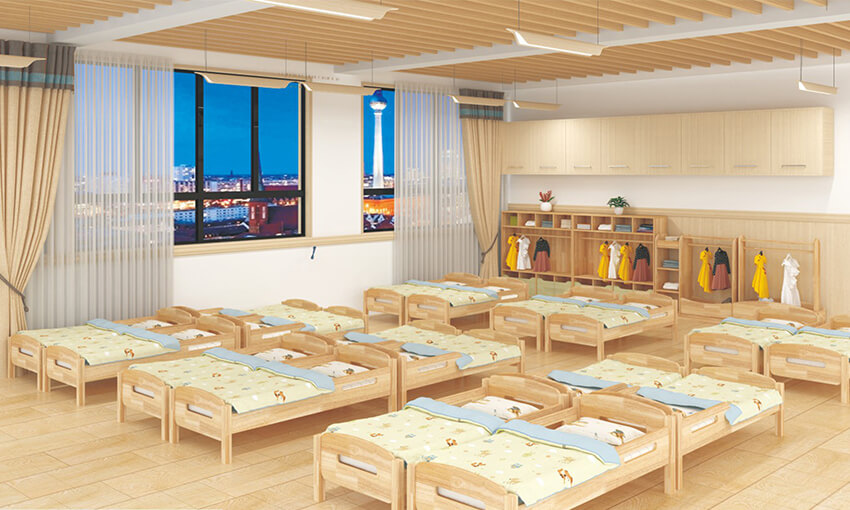 Creating an Interactive Activity Room for Kindergarteners
It is importance of activities in kindergarten to make learning fun by creating interactive activity rooms specifically designed for active kindergarteners! Creating fun and stimulating activity rooms in your kindergarten classroom can help to engage young learners in the learning process. With some careful planning and creative activity room ideas for kindergarten, you can create an engaging space activity for kindergarten that encourages physical, intellectual, and social development.
Design the Kindergarten Room Layout
When it comes to designing your kindergarten activity centers, the key is to create a space that encourages active learning. You'll want to work with your existing nursery furniture and find ways to maximize the room's potential – for example, by stacking chairs or rolling tables and bookcases around for easy access. Consider setting up different play areas, such as one for reading, writing, and science-related activities. Make sure there is comfortable seating where kids can relax and take a break when they need it. Incorporate storage solutions wherever possible so that all materials stay organized and easily accessible.
Before you can get started on creating an interactive activity room for your kindergarteners, it's important to have the right supplies. Stock up on plenty of art supplies, such as crayons, colored pencils, paint, and construction paper. Make sure to keep safety scissors, glue sticks, and other craft items around too. You'll also want to provide basic materials such as counting blocks or puzzle pieces so children can explore patterns and numbers. Having a variety of toys and educational games on hand is always a good idea as well – these will come in handy when students need a break from their usual classroom kindergarten centers activities.
Appropriate Furniture and Equipment
When developing an interactive activity room for your kindergarteners, it's important to have the right furniture and equipment in place. This includes comfortable chairs and couches, child-sized tables for eating or doing crafts, and plenty of floor space for running around. Having bins and shelves helps keep your classroom organized so students know where to find what they need. You'll also want to make sure that you have some whiteboards or magnetic boards so students can explore their creative side with colorful markers and magnets!
Tips for Designing an Activity Room for Kindergarten-aged Children
Having an engaging and stimulating activity room in kindergarten students is a great way to foster learning, growth, and exploration. It provides students a safe, comfortable, and inspiring space to play, create, and learn. There are several benefits to having stimulating classroom activities for kindergarten that can directly impact your students' development. Here are some of the ways an engaging activity room can benefit your students:
The Advantages of Having an Engaging and Stimulating Activity Room
Improve focus: By providing students with activities that spark their curiosity is importance of activity room in school. they are more likely to stay engaged and focused.
Increase social interaction: Having activities set up in the room encourages students to work together and collaborate. Create rules activity for kindergarten to make young learners grow well.
Foster creativity: Providing students with creative activities helps to stimulate their imaginations and encourages them to express their ideas.
Encourage exploration: With an area filled with toys, games, and exciting tasks, students are empowered to explore and discover.
Develop problem-solving skills: Having stimulating activities and projects joint in infant room daycare activities to helps to develop problem-solving skills and encourages students to think outside the box.
What to consider when setting up an activity room for kindergarten
Keep safety in mind: Ensure the area activities for kindergarten provides a safe and secure place for students to play and explore. All activities for toddler room in childcare should be age-appropriate and inspected regularly for any potential hazards.
Choose the right furniture: Select the appropriate furniture and equipment so students can interact with the activity room safely and comfortably.
Utilize engaging activities: From arts and crafts to toys and games, ensure you provide an array of different types of activities for kindergarten that will keep students engaged while they explore the room.
Encourage exploration: Give students a variety of tools, materials, and supplies to experiment with and create. Make sure to include items that appeal to a wide range of interests.
Stimulate kids' creativity: Offer group activity for kindergarten, number activities for kindergarten, so that even the most inquisitive students have something to challenge their minds.