Creating Kid-Friendly Indoor Playground
Looking for an exciting way to keep your kids entertained indoors? With a little bit of imagination and some common indoor play centre items, you can transform any space in your school into an indoor playground. Here are all the tips, strategies, and ideas that you'll need to get started! Keep kids entertained while they stay indoors with this guide to creating a fun and safe indoor play environment design! Get all the tips and strategies you need to get started.
Kids' indoor play design is an area where children can play roles with various materials to reflect social life. Teachers can choose different playing materials and design different role play areas according to children's age, interests, and life experience. Such as a baby house, restaurant, barbershop, small bank, barbecue shop, candy shop, cake room, traffic post and other social existence of occupation and life, workplace, as long as children are interested in, we can be set.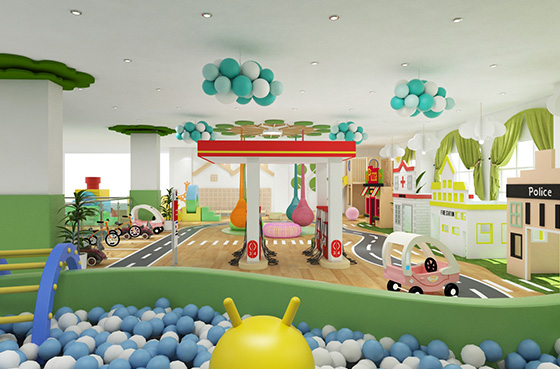 How to Designed Indoor Playground That Kids Will Love
indoor playground design can be a fun and exciting project, but it's important to consider the needs and interests of children to ensure they have a safe and enjoyable experience. From choosing the right equipment to creating a layout that promotes exploration and play, this guide offers expert tips to help you create an indoor playground that kids will love.
Determine the age range and interests of your target audience
Before you start indoor play area design, it's important to determine the age range and interests of your target audience. This will help you choose the right equipment and create a layout that appeals to their specific needs and preferences. For example, if your target audience is toddlers, you may want to focus on soft play equipment and sensory activities, while older children may prefer more challenging equipment like climbing walls and obstacle courses. Consider conducting surveys or focus groups with parents and children to gather insights and feedback on what they would like to see in an indoor play design.
Choose the right equipment and play structures
When designing an indoor playground, choosing the right equipment and play structures is crucial to creating a fun and engaging environment for kids. Consider the age range and interests of your target audience, as well as safety and durability when selecting equipment. Soft play equipment, such as foam blocks and tunnels, are great for younger children, while older children may enjoy climbing walls, slides, and obstacle courses. Make sure to also include a variety of sensory activities, such as musical instruments and tactile play areas, to engage all types of learners.
Create designated play areas for different activities
To maximize the fun and engagement of your indoor play environment design, it's important to create designated play areas for different activities. This can include areas for climbing, sliding, crawling, jumping, and imaginative play. By separating these activities, you can help children focus on specific types of play and avoid overcrowding in one area. Consider using colorful floor mats or signage to clearly mark each play area and make it easy for children to navigate. Additionally, make sure to provide ample space between play areas to prevent collisions and ensure safety.
Incorporate sensory experiences and interactive elements
To truly create an indoor playground design ideas that kids will love, it's important to incorporate sensory experiences and interactive elements. This can include things like a ball pit, sensory wall, interactive floor projection, or even a virtual reality experience. These types of activities engage multiple senses and provide a unique and exciting play experience for children. Additionally, consider adding interactive elements like buttons, levers, or switches that children can manipulate to create cause-and-effect experiences. These types of activities promote problem-solving skills and encourage creativity.
Ensure safety and accessibility for all children
When designing an indoor playground, safety and accessibility should be top priorities. Make sure all equipment and structures are properly installed and meet safety standards. Consider adding soft padding or mats to areas where children may fall or jump. Additionally, ensure that the playground is accessible for children of all abilities, including those with physical disabilities. This can include adding ramps, wider pathways, and sensory elements that can be experienced by all children. By prioritizing safety and accessibility, you can create a fun and inclusive play environment for all children.
Kids play area is provided for children to promote their socialization process and the development of communication ability, the development of their phonetic expression ability, the independent resolution of conflicts and contradictions, and the improvement of their coordination ability. Encourage young children to use materials and games creatively to develop their imagination and creativity.
Designing an indoor playground requires careful planning to utilize the space effectively while providing a safe environment for kids.
Play structures should have padded bases and handrails, with no sharp edges or points.
Popular indoor playground equipment includes multi-level platforms connected by tunnels, tubes, and climbing nets; ball pits filled with plastic balls; colorful foam shapes and blocks for climbing; and curvy slides for descending between levels.
Indoor playgrounds often have playground flooring made of interlocking foam mats, rubber tiles, or padded carpets to prevent injuries from falls. theme elements with bright colors, cartoon characters, and interactive play panels are frequently incorporated.
Seating areas for parents, private party rooms, and arcade or video game areas can provide additional entertainment options.
An indoor playground should have clearly designated age-appropriate play areas for younger kids and more active areas for older kids and adults.
Indoor Playground Design: Fun, Function and Safety
With properly designed equipment and safety features, an indoor playground can keep children actively engaged for hours while parents can supervise from nearby. Want to create an indoor playground that will keep kids entertained for hours? Check out this guide for expert tips on indoor play area design ideas and layout.
Brainstorm How to Set Up the Playground
Before you get started on actually setting up for your indoor play area design, take some time to brainstorm ideas of how best to arrange it. Consider what materials you have available, the space you have to work with, and the types of activities that your kids love the most. Once you have thought about these things, it will be much easier to decide where everything should go.
Utilize Space Efficiently With Multi-Purpose Items
Make the most of your space of indoor play area design ideas by utilizing items that can serve multiple purposes. For instance, consider adding a blank wall space for a hanging whiteboard or chalkboard where kids can draw and make up games. Alternatively, add oversized pillows to a corner for them to create make-believe worlds. Finally, if you have enough space, add a versatile piece of furniture such as a trampoline or climbing structure that can provide hours of fun.
Place Safety Rules and Strategies For Use of Equipment
Open play areas need a few safety rules to ensure all participants are safe while they enjoy the space. Make sure your indoor play area interior design has guidelines that children must adhere to regarding the use of specific indoor playground equipment, as well as any behavior expectations you may have. For example, require appropriate footwear such as closed-toe shoes, no roughhousing, and be sure necessary protective strategies such as helmets and pads (for trampolines) are available for use. Finally, establish regular maintenance checks on your equipment to verify it is working properly and that nothing needs to be secured or repaired.